Sorry, this item is not available anymore for purchase online. Please see our recommended replacement product.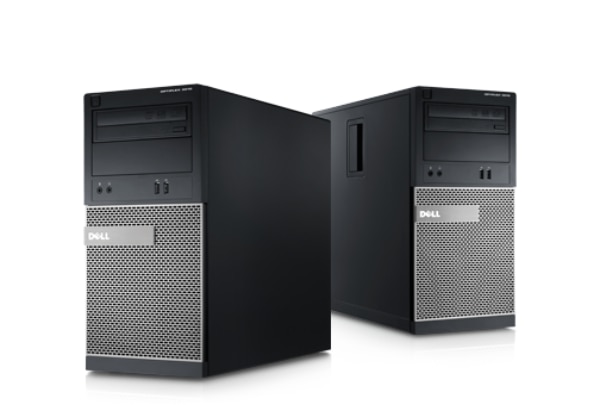 Features and Design
Smart productivity
Operating system
Available with Windows 8 Pro

Work efficiently with the OptiPlex™ 3010 desktop, featuring essential performance, flexibility and connectivity to help your organization succeed.

Achieve high performance
Harness up to Intel® Core™ i5 processor options including Intel® Turbo Boost Technology 2.0, ample storage, Intel® HD graphics and high-bandwidth memory of the OptiPlex 3010.

Experience workplace convenience and versatility
Work comfortably with a system that enables you to customize your workspace with intuitive design, multiple display options and flexible configurations for your peripherals.

Easy collaboration promotes success
Collaborate and share data through VoIP and Microsoft® Unified Communication certifications.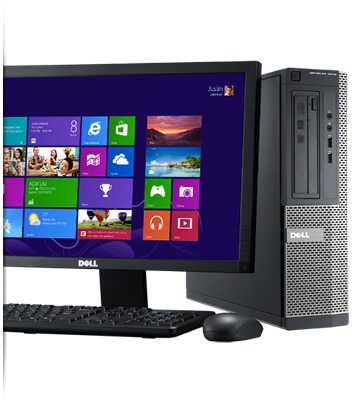 Business-class control
Effective management of your office environment is within reach. The OptiPlex™ 3010 enables IT administrators to take total control over system management and security protocols, and offers the stability needed to effectively plan for the future.
Efficiently manage your desktop fleet.

Achieve unprecedented IT control in your workplace. In-band management, image sharing between desktops and Dell's System Center Configuration Manager help increase IT efficiency.
Ensure data security across your organization.

Help protect your critical data and meet compliance standards with Dell Data Protection | Encryption
*
and other security features.
Enjoy the peace of mind provided by business-class stability and support.

As your business grows, hardware stability and support are the key to budget management and forecasting long-term needs. Help IT focus on the most important projects with Dell ProSupport™ and Dell Deployment Services.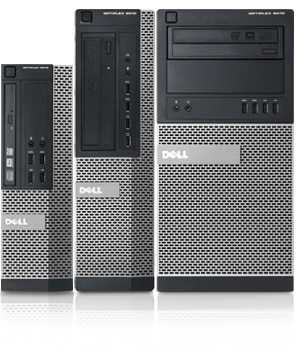 Inspired design.
Built to last and designed to fit your workspace, Dell OptiPlex™ desktops offer durability and style.

Built to last.
Your business requires a desktop that can handle the tough jobs. Ensure long-term reliability with durable, serviceable Dell OptiPlex desktops.

The right fit for your desk.
Dell OptiPlex systems are designed to integrate seamlessly into any office environment, on virtually any size desk, and with a consistent look across all models.

Designed to help preserve the environment.
Help minimize energy consumption and encourage conservation with the ENERGY STAR® 5.2 compliant OptiPlex desktops, featuring highly efficient power supply options and environmentally conscious design features.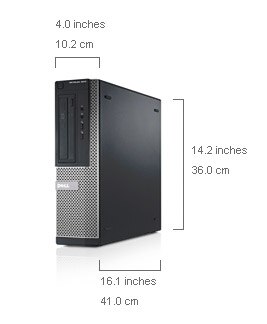 An efficient design for any workspace
OptiPlex 3010 Desktop

The OptiPlex™ 3010 desktop is a good fit for businesses that have adequate desktop space and desire a high level of expandability. It includes four expansion slots and two media drive bays.

Dimensions: (H x W x D)
Inches: 14.2 x 4.0 x 16.1
Cm: 36.0 x 10.2 x 41.0

Number of Bays:
1 internal 3.5"
1 external 5.25"

Expansion Slots:
1 half height PCIe x16
3 half height PCIe x1

Power Supply Unit (PSU) :
Standard 250W PSU Active PFC or optional 250W up to 90% (80 PLUS® GOLD certified) Efficient PSU; Energy Star 5.2 compliant, Active PFC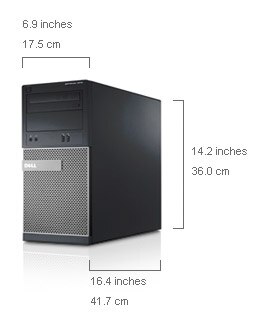 OptiPlex 3010 Mini Tower

The OptiPlex™ 3010 mini tower helps organizations who make expansion a priority. It comes standard with four bays and four expansion slots, and includes built-in hand grips.

Dimensions: (H x W x D)
Inches: 14.2 x 6.9 x 16.4
Cm: 36.0 x 17.5 x 41.7

Number of Bays:
2 internal 3.5"
2 external 5.25"

Expansion Slots:
1 half height PCIe x16
3 half height PCIe x1

Power Supply Unit (PSU) :
Standard 265W PSU Active PFC or optional 265W up to 90% (80 PLUS® GOLD certified) Efficient PSU; Energy Star 5.2 compliant, Active PFC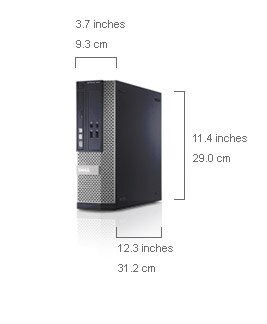 OptiPlex 3010 Small Form Factor

The OptiPlex™ 3010 small form factor allows for an AIO stand and is perfect for deployment in small places. The small form factor has two expansion slots and two bays.

Dimensions: (H x W x D)
Inches: 11.4 x 3.7 x 12.3
Cm: 29.0 x 9.3 x 31.2

Number of Bays:
1 internal 3.5"
1 external 5.25" (slimline)

Expansion Slots:
1 half height PCIe x16
1 half height PCIe x16 (wired x 4)

Power Supply Unit (PSU) :
Standard 240W PSU Active PFC or optional 240W up to 90% Efficient PSU (80 PLUS® Gold); ENERGY STAR 5.2 compliant, Active PFC.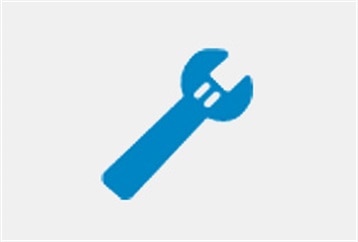 Dell ProSupport can help you cut costs and increase productivity across your multivendor environment. It will ease the burden on your resources so that they can focus on keeping your customers satisfied and free your time to focus on the bigger picture.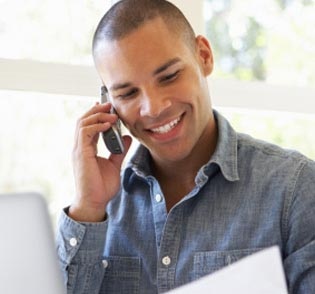 With Dell ProSupport, you can expect:

24x7 direct access to highly trained experts who provide enterprise-level, tech-to-tech support

Remote and on-site support with four and eight hour parts & labor response options

 Incident-based third-party software assistance for data center and end-user applications, OS, and firmware troubleshooting

Emergency parts and labor dispatch, in parallel with troubleshooting for issues you identify as severity level 1

Access to secure online management of parts, convenient for servicing your own hardware

Options to remotely monitor and manage your data center hardware

Options for data and asset protection services
Data Management and Protection

Asset Management and Protection

IT Advisory Services

Keep Your Hard Drive*

helps you retain control of sensitive data.

Hard Drive Data Recovery provides unlimited attempts to recover data from a failed hard drive.

Accidental Damage Protection

repairs or replaces accidentally damaged systems.

System Tracking and Recovery tracks lost or stolen systems.
Extended Battery Service covers an optional replacement battery during a system's three-year limited warranty

period.

Pro

vides enhanced proactive capabilities through

:


Designated Technical Account Manager

Performance benchmarking, custom reporting, planning and assessments
Customization and setup
Installation Services


For fast, trouble-free installation of your system, including installing into a pre-built rack where applicable. For advanced installation requirements your Dell representative can provide a customised quotation.

Deployment services
Our end-to-end deployment services are designed to simplify and accelerate the customization and utilization of your new systems. Dell Deployment Services include everything from order consolidation to coordination of deployment resources.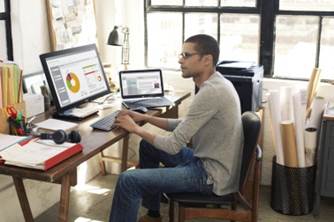 Configuration Services
With Dell Configuration Services, your company receives fully functional systems ready for use by end users or for installation in your data center.Dell Configuration Services can help remove the complexity and frustration associated with deploying new equipment. You avoid excessive downtime in deploying new systems and can eliminate the risks and unnecessary complexity associated with supporting nonstandard configurations in your environment.

Imaging
Have your image loaded on your PCs prior to shipping. By allowing Dell Services to load your image as your systems are being built, you'll be able to receive fully imaged laptops and desktops and minimize disruption to your day-to-day operations.
Asset Tagging/Shipping Labels
Want to be able to control and effectively manage the status of your computer equipment? Our asset tags and ship-box labels make identifying, tracking, securing and recovering your computers easier, simpler and more affordable
.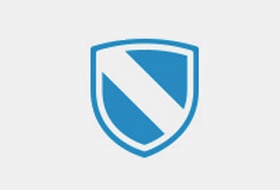 System Tracking and Recovery

Computrace by Absolute® Software helps your organization locate lost or stolen systems and protect the corporate data that resides on these machines. Computrace allows you to centrally manage your IT assets, identify missing assets and enforce software policies. In the event of loss or theft – Computrace One can help recover the asset.
BIOS Customization


Allows customization and personalization of BIOS information for your organisation . An automated way to save time and effort creating basic system settings. Provides additional security and change control.


Hard Drive Partitioning


Minimize the risk of damaging crucial Operating System files and increase flexibility by storing your data on separate partitions with no need to purchase and install expensive disk partitioning software.


Asset Resale and Recycling
Asset Resale and Recycling offers safe and environmentally appropriate disposal or donation solutions for outdated or end of life IT assets. This service include transportation, flexible logistics, equipment processing, donation charity nomination, detailed data security and environmental reports at affordable prices.
Integrated solutions

With every OptiPlex™ desktop comes the possibility of greater back-end client control through a range of Dell solutions and services.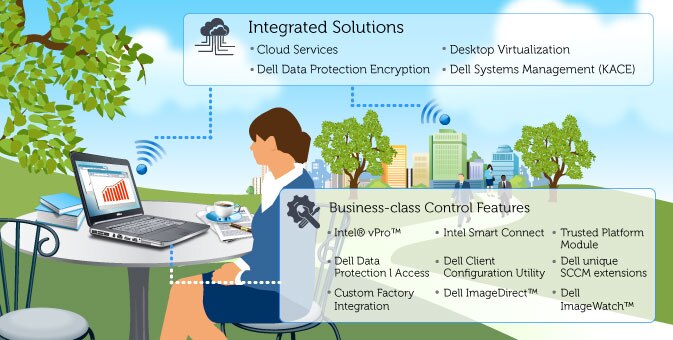 Dell Data Protection│Encryption

Help protect data on hard drives and removable media across your network through encryption and strong authentication.
Simplify end-point data security with a single solution designed for system disks and removable media.
Monitor client security remotely.
Easy compliance management and auditing: Features one touch-compliance policy templates, remote management and quick system recovery.
Speed deployment with one-touch preset compliance policy templates.
Deny access to unauthorized users in the event of loss or theft.
Learn More
Dell Systems Management

From Dell KACE appliances to software management services like System Center Configuration Manager, we've made it easier than ever to manage large fleets of OptiPlex desktops.
Automate everyday management tasks with tools and utilities.
Manage multiple devices from a single console.
Accelerate deployment processes.
Monitor the status and health of systems, perform hardware inventory, update drivers and monitor power usage remotely.
Automate updates and inventory tracking with a KACE appliance.
Learn More

Dell Desktop Virtualization

Combining purpose-built hardware, software and services, Dell Desktop Virtualization Solutions centralize IT control, giving you access virtually anytime and anywhere.
Access your desktop through the cloud using your laptop, tablet or smart phone.
Simplify your organization's backup, restore, encryption and email management duties.
Decide how much control you want — Dell can build your solution and manage it for you, or you can manage desktop virtualization yourself.
Learn More
Drivers, Manuals & Support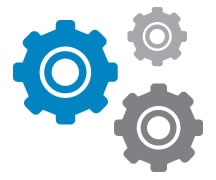 Dell Support
From drivers and manuals to diagnostic tools and replacement parts, Dell Product Support has you covered!