10GbE Pass-Through module for Dell M-Series blades
Connecting to XAUI-based 10GbE mezzanine cards (10Gb Ethernet Pass-Through II) and KR-based 10GbE mezzanine cards and NDCs (10Gb Ethernet Pass-Through-k).
10Gb Dell Ethernet Pass-Through I-O Module for M-Series Blades
Dell
Port Attributes
Ports:
32 total Ethernet ports: 16 internal (server) ports and 16 external (LAN) ports
1:1 Internal-external port pairs provide dedicated connections for isolated bandwidth between server and LAN
Ships with all 32-ports enabled
All external ports are hot-pluggable, enabling expansion without server interruption

Options:
All ports enabled standard
External ports also support 10Gb SFP+ LR optics and SFP+ Direct-Attach (copper) cables (0.5m, 1m, 3m, 5m, 7m)

Supported Adapters (by model):Adapter (NIC/CNA) support varies based on model of Pass Through
Dell 10Gb Ethernet Pass Through II supports the following XAUI-based adapters:
    Broadcom 57710 mezzanine card
    Broadcom 57711 mezzanine card
    Intel X520 mezzanine card
    Intel X520-x/k mezzanine card
    QLogic QME8142 mezzanine card
    Emulex OCm10102-f-m mezzanine card
Dell 10Gb Ethernet Pass Through-k supports the following KR-based adapters:
    Brocade BR1741M-k mezzanine card
    Broadcom 57712-k network daughter card (NDC)
    Intel X520-x/k mezzanine card
    Future 10Gb adapters for PowerEdge blade servers
Note: 1Gb NICs are not supported with either model of pass-through

Performance
10 Gigabit per second line speed per port, full duplex
Availability
Connects Dell blade servers using 10 Gigabit Ethernet NIC blade mezzanine I/O cards to external switches

Great solution for Dell™ PowerConnect™, Cisco Catalyst/Nexus switches as well as your choice of external Ethernet switches
Dell 10Gb Ethernet Pass Through Modules are transparent to all Ethernet topologies, providing connectivity from Dell blades to any vendor's external LAN switch.

Connect to any industry standard Ethernet compliant device.
Management
Module is unmanaged – all management occurs via NIC firmware or O/S, or external switch Device status is available through the M1000e Chassis Management Controller (CMC)

Diagnostics:
Dell 10GbE-k Pass-Through Module performs a power on self-test and various ongoing diagnostics to ensure proper operation
Chassis
Dimensions:

Height: 272.75 mm
Width: 32.48 mm
Depth: 307.24 mm

Weight:

2.6 kg without SFP's; 3.0 kg with SFP's

Transceivers
10GbE SFP+ Optical Transceiver, SR, LC Connector
10GbE SFP+ Optical Transceiver, LRM, LC Connector

Cables
1m SFP+ Direct Attach Cable Transceiver Assembly
3m SFP+ Direct Attach Cable Transceiver Assembly
5m SFP+ Direct Attach Cable Transceiver Assembly
7m SFP+ Direct Attach Cable Transceiver Assembly
Environmental Operating Conditions
Please see limits associated with M1000e blade enclosure
Power
DC Input:

2V from shared power supplies in M1000e blade enclosure

Power Consumption:

Approximately 20 Watts without SFP's
Approximately 28 Watts with SFP's


Architecture
Dell Pass-Through Modules are hot swappable in the M1000e chassis.

Redundant units provide failover protection.

Up to four 10Gb Ethernet Pass Through II modules (two in Fabrics B and C) supported per M1000e chassis.

Up to six 10Gb Ethernet Pass Through-k modules (two in Fabrics A, B, and C) supported per M1000e chassis.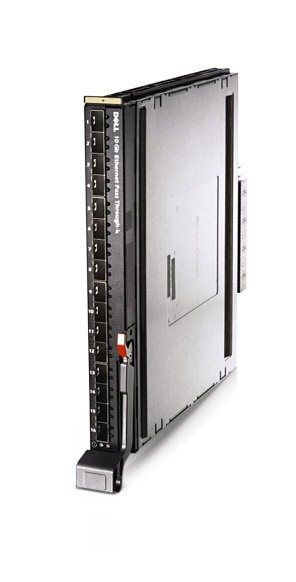 Interoperability without consideration
Dell 10GbE Pass-Through Modules ensure 10Gb Ethernet interoperability for M-Series blade deployments. Since pass throughs are transparent devices, they are unseen in LAN topologies and provide direct Ethernet connectivity from server blades to external LANs. This level of interoperability can be beneficial when seeking to integrate blade servers into existing LANs from any partner of your choice.


Plug and done


As unmanaged devices, Dell 10Gb Ethernet Pass-Through Modules require no setup, configuration or management. Simply plug the unit into the M1000e chassis and connect cables to the sixteen optional shortwave SFP+ optical transceivers, and you're done. The modules automatically connect at 10 Gbps on a port-by-port basis, enabling traffic to begin flowing from server blade to external 10Gb network switch.


Dedicated bandwidth

By statically tying each internal (server) port to its corresponding external port, the 10GbE Pass-Through Modules help deliver dedicated and isolated bandwidth between each server blade and the LAN without compromise. The sixteen external ports in each module also help maximize the available Ethernet bandwidth from your M1000e to your LAN.
Navigate network complexity with Dell EMC Services
Our global team of network experts understands the complexities of IT ecosystems, including multi-vendor environments. We have the skillset and experience to not only quickly resolve performance issues but also transform your network to meet the demands of your business.
Consulting
Dell EMC network consultants provide expert guidance to help you optimize and transform the network environment for the demands of today's multi-cloud infrastructures. Our deep infrastructure and application expertise combined with sophisticated network analysis toolsets address a wide range of network technology and process challenges.
Deployment
Leverage the Dell EMC ProDeploy Enterprise Suite to get your network installed and configured. Our experts can free your IT staff to focus on your core business, minimize downtime and give you the confidence that the job will be done right, the first time.
Support
Gain access to ProSupport technical experts who can assist with your most complex networking challenges. The Dell EMC ProSupport Enterprise Suite provides networking support around the clock and around the globe, helping your team maintain a high level of productivity.
Education
Dell EMC offers flexible training programs so your staff can build the right skills to successfully manage and utilize your network to its full potential. Through our personalized approach, your staff gets the exact training they need to improve productivity and adoption, decrease downtime, and reduce end-user support calls.