Smart Value Flexi | DP4400-8
Simply Powerful Data Protection
The perfect mix of power & simplicity at the lowest cost-to-protect. DP4400 is a converged 2U appliance offering backup, dedupe, replication, recovery & cloud readiness.
Simple. Powerful. Lower cost-to-serve.
Tech Specs & Customization Smart Value Flexi | DP4400-8
Data Protection 4400 SW License
DP4400 Cloud Tier SW License (1st 5TB Free)
Data Protection 4400 Cloud DR SW License
Optics & Cables for Network Cards
Embedded Systems Management
Dell Services: Deployment Services
Also included in this system
The following options and default selections are included with your order.
IDPA DP4400 Software Factory Installed
3 Years, ProSupport with Mission Critical, Software Support
PowerEdge R740 Shipping Material
Simple. Powerful. Lower cost-to-serve.
Smart Value Flexi | DP4400-8
Original Price
£37,532.00
Ex. VAT @20%, free Delivery
Ships in 3–4 business days
Order Code dp4400-8
Features and Design

Simple, yet Comprehensive Data Protection
Get simply powerful data protection for mid-size organizations and remote and branch offices of larger enterprises with the Integrated Data Protection Appliance (IDPA) DP4400 – a converged appliance that combines backup, replication, deduplication, search, analytics, instant access and restore, as well as DR and long-term retention to the Cloud.
The IDPA DP4400 provides comprehensive data protection that is simple to manage, deploy, and upgrade—all in a compact 2U appliance. Protect the largest application ecosystem, simplify data protection monitoring and management with the IDPA System Manager, and grow-in-place from 24TB to 96TB without any additional hardware. It also delivers an industry-leading average data deduplication rate of 55:1
*
, shortens backup windows by up to 2x
*
, provides the industry's lowest cost-to-protect – up to 80% less
*
, and protects up to 4x more data in one 2U appliance
*
.
Comprehensive and complete data protection for the largest application ecosystem*
Customer-installable/upgradable 2U appliance; can grow-in-place (24-96TB) with no additional hardware needed
Expand to the cloud with native cloud DR and long-term retention add-on capabilities
3-year satisfaction guarantee and up to 55:1 data protection deduplication guarantee with Future-Proof Loyalty Program (support agreement required)
Dell EMC offers complete end-to-end services
Optimizing the IT lifecycle is vital. Dell EMC has expert services
*
for all lifecycle phases that save you time and resources, reduce effort, and improve your IT experience.

ProSupport Enterprise Suite
Gain the freedom to focus on your business transformation with the support expertise and insights Dell EMC is known for across the globe. Choose the right support based on the criticality of specific systems with available automated predictive analysis, collaborative third-party assistance and service account management.

ProDeploy
ProDeploy Enterprise Suite helps you get more out of technology starting on day one. Trust Dell EMC experts to lead deployments from basic hardware installations through planning, configuration and complex integrations. Our complete suite of deployment services and professional certifications helps you achieve business outcomes today and tomorrow.

Training
Education Services offers an expansive suite of training services with multiple delivery methods, including instructor-led, self-paced online and virtual instructor-led training. With comprehensive and flexible training programs, we make it easy to ensure your staff has the skills they need to successfully manage and utilize your new technology to its full potential.

Consulting
Consulting services give expert guidance to help you grow, optimize and transform your IT environment at your own pace and budget. We employ a broad range of certified consultants and engineers, backed by program management teams, who can deliver deep technical expertise. We give you the confidence that your project will be done right and on time.
Drivers, Manuals & Support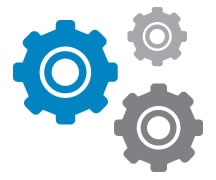 Dell Support
From drivers and manuals to diagnostic tools and replacement parts, Dell Product Support has you covered!