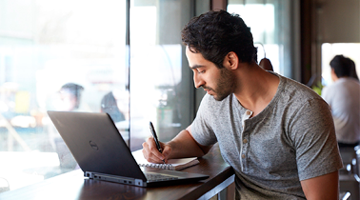 Connect better wherever you work.

Now on select Dell laptops, tablets, and 2-in-1 devices, get the next generation of connectivity with Verizon. Only America's best network makes your devices work the way you want, when you want it with the speed, coverage and security your business needs to get more done, faster. And with unlimited data, you'll get a plan designed to grow with your business and work where you work, all on America's most reliable network.* So switch to Verizon today and experience quicker downloads, less buffering and more reliable, secure connectivity.

* After 22 GB/mo/line, we may prioritize your data behind other traffic during network congestion. Reliability claim based on RootMetrics® U.S. National RootScore® Report 2H 2018 of 4 mobile networks. Results may vary. Award is not endorsement. Visit RootMetrics.com.

Connect a 4G LTE powered laptop or tablet to your Verizon plan and get 1GB of free data to try for a month.

Qualifying tablets and laptops must be new to the Verizon Wireless network. Devices previously activated with Verizon Wireless do not qualify for this offer. Non-4G LTE tablets and laptops do not qualify for this offer. Free trial will terminate if the device is activated on a new line of service, when the 1GB data allowance is depleted, or 30 days, whichever comes first.