Sorry, this item is not available anymore for purchase online. Please see our recommended replacement product.
Features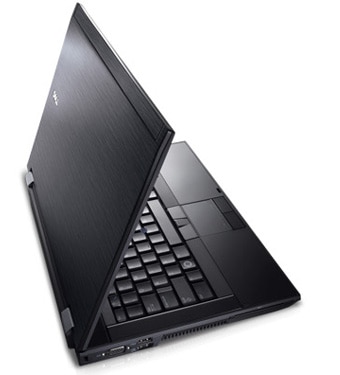 Proven Battery Life vs. HP's marketing
We take battery life testing very seriously because we know that having a laptop with long, reliable battery life is important to your success and when you're looking for research that helps you make a purchase decision, you want research and results that represent reproducible, objective testing. That's why we hired an independent third party to test the battery life of the Dell Latitude E6400 and the HP EliteBook 6930p; not once, but twice. In both tests, Dell beat its current published claim of 19 hours* of battery life and HP failed to reach its published claim of 24 hours of battery life. Plus, in the most recent round of testing Dell outlasted HP's battery life by nearly 2 hours!* You can see the results for yourself here . In addition, we'll give you something that HP doesn't: full test methodologies published here and here.
Inspired Design
The Latitude E6400 is thoughtfully designed not just for looks, but to survive a long day on the job. With premium magnesium alloy construction, longer-lasting paint finishes and robust metal hinges, the new Latitude E6400 is more durable than ever. Work more comfortably with a precision-tuned keyboard that offers stronger key durability and optional backlighting. Roam the halls in style with our sleeker, slimmer profile that was inspired by feedback from thousands of users just like you.
All-Day Mobile Computing
Meet the laptop that can last as long as your work day. Achieve up to 19 hours of battery life* with the combination of our optional 9-cell battery, new high capacity battery slice, solid state drive and exclusive Dell ControlPoint software. Stay connected anytime, anywhere* with Dell Control Point Connection Manager, which enables fast and easy wireless connections with support for current and emerging wireless technologies (Wi-Fi® , mobile broadband*, Bluetooth® 2.1, WiMAX® , High Performance Wireless-N).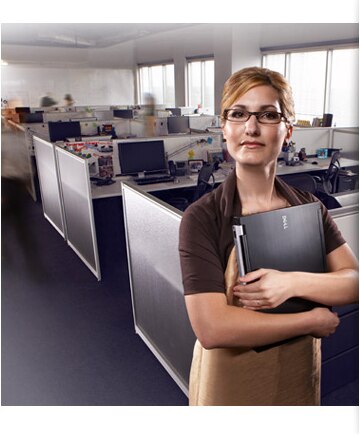 Peace of Mind
Sleep easy knowing that Dell Latitude laptops—and your company's data—are secure and protected anywhere in the world. Dell offers a broad range of laptop security and data protection options that can easily integrate into your current infrastructure, including:
Dell ControlVault™ secure credential management
Multi-factor authentication via an integrated contactless smart card reader, Trusted Platform Module v1.2 and optional biometric fingerprint reader
Solid State Drive technology for improved data protection
Dell Mobile Asset Protection Services* can help maximize uptime while protecting your investment with Extended Battery Service* and Laptop Tracking & Recovery*
Dell Mobile Data Protection Services* include Remote Data Delete*, Hard Drive Data Recovery* and Certified Data Destruction services* - with these optional services, Dell can remotely delete your sensitive data, prevent potential loss of valuable data, certify destruction of data or recover data from a failed hard drive without a backup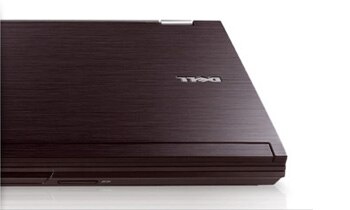 Total Control of Ownership
The ultimate team players, multiple Latitude mainstream laptops can be remotely managed by a single IT support person anywhere in the world. With image and systems management tools like Dell ImageDirect™ and Dell Client Manager, you can help simplify systems management and free up IT to focus on more strategic business challenges.
Creating a quick transition from mobile freedom away from the office to full desktop productivity at your office desk, Dell™ E-Family docks, stand and accessories enable seamless mobile-to-desktop expansion.


Seamless Desktop Transitions: E-Port and E-Port Plus
Transition seamlessly to a desktop environment with the new E-Port and E-Port Plus docking solutions featuring true hot docking and undocking capabilities. Both docking solutions provide an expansive compliment of USB, powered eSATA and graphics ports. Connect to networks, keyboards, monitors, and other peripherals quickly and easily instead of attaching cables every time.

Effortless Desktop Flexibility: E-Family Stands Test

The new E-Flat Panel Stand offers wider horizontal swivel angles and an automatic weight-regulated height adjustment mechanism that makes adjusting the height of your panel as easy as a gentle push. E-Flat Panel Stand is customized to accept both E-Port and E-Port Plus, supports LCD panels up to 60.9 cm (24).
Recent generation Dell flat-panel monitors can be easily mounted on this elegant stand through Dell quick disconnect mount. Third party and older generation Dell flat panel monitors can be mounted through an optional E-VESA® mount adapter.




Designed for improved accessibility, the E-Monitor Stand features a front-access power on/off button and also comes with a front eject button. This stand is designed to hold up to a (75 lb or 35 kg) cathode ray tube (CRT) monitor or an LCD flat-panel monitor.
The E-Legacy Extender can be snapped onto your E-Family notebooks through the docking connector and adds little weight to your system (0.45 lb or 0.21 kg). It is ideal for those who still rely on legacy ports (serial port, parallel port, or PS/2 port) regularly.



Stay on the Move: Custom Carrying Cases and Sleeves
Provide extra protection for your laptop investment with stylish and lightweight carrying cases designed specifically for E-Family laptops. New soft grip handles, EVA compression molded foam for ultimate shock and vibe protection, durable hardware, superior stitching, and tight weaves make these cases built to last with the ideal amount of storage and no compromise on style.
Slim and lightweight, Dell Neoprene Sleeves are designed to t to help protect your laptop from everyday wear. Made from top-grade Neoprene that is durable and stain resistant.



Dell ProSupport
Designed to address the technology challenges you face today, Dell ProSupport™* starts with a service model designed for IT professionals like you.

Dell ProSupport for IT provides:
24x7 direct access to Dell Expert Centers
Fast-track dispatch for Dell-certified technicians
Escalation management through Dell's Global Command Centers
Dell ProSupport for end users is designed for organizations with limited or no dedicated IT staff. End users receive 24x7 direct break-fix hardware support plus 'how-to' support on popular software applications such as Norton™ AntiVirus, Microsoft® Office, Microsoft Small Business Server®, Intuit® QuickBooks®, Adobe® Photoshop® and Adobe Acrobat®.

Additional Dell ProSupport Options align to the way you use technology — rapidly responding to your needs, protecting your investment, your productivity and your sensitive data, and providing enhanced proactive support services to help reduce the risk and complexity of managing your infrastructure.
SPEED OF RESPONSE

PROTECTION

PREMIUM PROACTIVE

International Onsite Service* p

rovides service and support for your Dell laptop while you are traveling.



Specialized Onsite Options allow you to augment your daily IT management or tap into specific technical expertise for critical projects when needed. Recommended options for notebooks include:


Onsite

Parts Management

to help minimize downtime by having parts at your fingertips

Onsite Personnel to augment your IT staff

Onsite

Diagnosis

for accelerated troubleshooting

Asset Management and Protection help protect sensitive data.


Accidental Damage Protection

*

 repairs or replaces accidentally damaged systems

Laptop Tracking and Recovery tracks lost or stolen systems.
Extended Battery service covers an optional replacement battery during a system's 3-year limited warranty*

period.

Data Management and Protection

Keep Your Hard Drive

*

helps you retain control of sensitive data.

Hard Drive Data Recovery provides unlimited attempts to recover data from a failed hard drive.
Remote Data Deletion can remotely delete data if your system goes missing due to loss or theft.
Certified Data Destruction wipes your hard drive clean and destroys data

Enterprise-Wide Contract provides enhanced proactive capabilities through:


Designated service delivery manager

Performance benchmarking and custom reporting

Planning

and assessments
Deployment Services
Our end-to-end deployment services are designed to simplify and accelerate the customization and utilization of your new systems. Dell™ Deployment Services include everything from order consolidation to coordination of deployment resources.
Managed Deployment
Dell-Managed Deployment Services are for customers who need a complete, end-to-end deployment solution. Managed deployments are useful within complex logistical environments which require a single point of contact.
Custom Factory Integration
Dell offers custom factory integration services to help accelerate your system deployments. We can perform a range of services such as custom configuration, consolidation, and integration in our factory so that you can deploy your systems right out of the box.
ImageDirect
ImageDirect™ is a web-based, hosted image management service that enables customer to easily create, manage and load custom images for Dell commercial client systems.
Asset Recovery Services
Asset Recovery Services offer safe and environmentally appropriate disposal solutions for outdated or end-of-life IT assets. This service includes transportation, flexible logistics, equipment processing, detailed data security and environmental reports at an affordable price.
Drivers, Manuals & Support


Dell Support
From drivers and manuals to diagnostic tools and replacement parts, Dell Product Support has you covered!
Add the products you would like to compare, and quickly determine which is best for your needs.
Add the products you would like to compare, and quickly determine which is best for your needs.